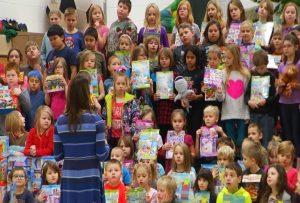 A Benzie Central elementary school is teaching their students how far a penny can really go.
Two weeks ago, students decorated each classroom door at Betsie Valley Elementary.
Then students would put pennies in a jar for the best door, a penny war to raise money for Toys for Tots
With the help of MR Products Inc., the students were able to raise more than $700.
Then the Corner Toy Store in Frankfort matched the donation.
$1,400 worth of toys arrived at the school Tuesday.
Principal Amiee Erfourth says, "We want our kids to see no matter how small of an amount that you're giving as long as you're doing something for others and you're working together there's a big reward in the end and everyone was able to win."
The toys are going to the Toys for Tots headquarters in Benzie County where they will distribute them to local kids.
http://www.9and10news.com/story/34045104/benzie-county-elementary-school-penny-war-donates-1400-worth-of-toys