ATHLETIC DIRECTOR-  STEVE GRAETZ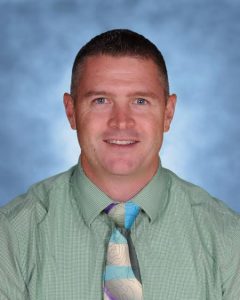 Steve Graetz is beginning his first year as Director of Athletics and Assistant Principal at Benzie Central Middle School and High School, and his 15th year overall in education.  Prior to his arrival at Benzie Central MS/HS, Graetz served as Elementary Principal at Platte River and Betsie Valley from 2012-2017. He began his career in education as a middle school english, social studies, math, science, and computers teacher in Big Rapids and Baldwin.  Mr. Graetz can be reached at (231) 882-4498 Ext. 2221 Fax (231) 882-7627 or graetzs@benzieschools.net.
Welcome to Benzie!  As you enjoy your experience of attending our athletic events, please keep in mind the true purpose of interscholastic athletic participation.  The wins and losses are secondary to the life lessons that are learned by our student-athletes each day of training and competition.  The values of good sportsmanship, teamwork, leadership and discipline translate into successful young men and young women of character later in life.  Please do your part in demonstrating outstanding behavior that will reflect positively on the school district and community.With your support we can continue to provide our student-athletes with quality educational experiences!  GO HUSKIES!